Meet Your Team
Our therapists and office manager are dedicated to helping you overcome the challenges you are facing.
Therapists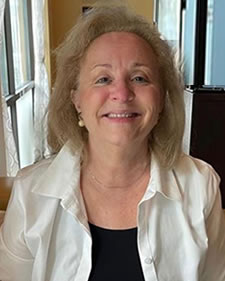 PAULA F FREDERICK, LMHC, SUDP
Paula is our Clinical Director and a therapist providing individual, child, and family therapy services.

Education and Credentials
Master's Degree in Education and Psychological Counseling (Psychotherapy), Portland State University, Portland, Oregon
Licensed Mental Health Counselor (LMHC)
Substance Use Disorder Professional (SUDP)
Experience. Ms. Frederick has worked in the behavioral health field for over three decades. She has worked as an administrator and director of hospital, day treatment, and outpatient clinics and programs, supervising multiple programs and clinical staff. In addition, she taught college and university-level courses at Bellevue College and Antioch University for over two decades on topics such as psychopathology/the DSM, diagnosis and assessment, introduction to addiction, and group therapy skills, among others.
Therapeutic Style. Paula works with clients of all ages and their families and particularly enjoys working with older teens, adults, and parents. She views therapy as a collaborative process, working with clients or families to achieve their goals using a philosophical and reflective perspective. She uses an integrative and holistic approach tailored to each client, drawing on her extensive and eclectic experience and training in numerous clinical practices.
Paula has traveled extensively, lived in diverse cultures, and has substantial experience and training working with many diverse cultures, family systems, and ages.
Clinic Specialties and Training
Addictions
Cognitive Behavioral Therapy (CBT)
Trauma-Focused Cognitive Behavioral Therapy (T-CBT)
Co-Occurring Disorders (mental health and substance abuse disorders simultaneously)
Dialectic Behavior Therapy (DBT)
Eating Disorders
Family Systems
Psychodynamics
Tapping
Trauma
Paula's interests include travel (particularly internationally), yoga, gardening, water sports, music, walking, hiking, and biking. Paula incorporates yoga, relaxation, and other modalities, in her therapy practice.

SARAH DOCHOW, MS, LMHC, CN
Sarah provides individual, child, and family therapy.
Education. Sarah holds Master's degrees in both Psychology and Nutrition from Bastyr University and is a Washington State Licensed Mental Health Counselor (LMHC) and Certified Nutritionist (CN).
Sarah's therapeutic approach is client-centered and interpersonal in nature, believing that people heal and change within the context of a supportive and accepting relationship. She has extensive experience working with evidence-based practices, including CBT, DBT, EMDR, TFCBT, and mindfulness, with children, teens, families and parents.
Sarah is not accepting new clients at this time.
ANNA KIM DOUGLASS, MSW, LICSW
Anna provides individual therapy. Anna has extensive experience working with adolescents and adults in mental health. Anna's diverse professional experiences allow her to engage with her clients in a culturally responsive, strengths-based manner.
Education. Anna holds a Master's degree in Social Work from the University of Washington and is a Licensed Clinical Social Worker (LICSW).
Anna's therapeutic style is person-centered and trauma-informed with an emphasis on cultivating trusting, empowering therapeutic relationships. She seeks to provide a safe space for her clients where they are free to discover, grow, and heal while meeting them where they are at with compassion and warmth. Anna's practice is informed by an integration of theories of human development, cognitive-behavioral theory, and trauma theory. She operates within the framework of the mental health recovery model and neuroplasticity, the brain's ability to change and heal. She has specialized training and passion for helping individuals heal and thrive after trauma and abuse. She is fluent in Spanish and proficient in Korean, and if so desired by the client, can provide faith-based Christian counseling.
Clinical Specialties
Anxiety and Trauma
Attachment
CBT
DBT
EMDR
Mindfulness
Faith-based Christian counseling
ALISON TROOST, MS, NCC, LMHC
Alison provides individual, child, adolescent, and adult counseling.
Education: Alison holds a Masters of Science specializing in Addiction and Mental Health counseling and is currently eligible for a Substance Use Disorder Professional certification.
Alison's therapeutic approach is person-centered, with an emphasis on validating the client's experiences. Alison believes that identifying cognitive, behavioral, and relational patterns is key to advancing towards the client's goals in therapy. She places a high emphasis on the therapeutic relationship and progressing through the growth process together. She has experience facilitating groups and believes as with the therapeutic relationship, groups can be healing through the ability to grow together.
Clinical Specialties
Cognitive Behavioral Therapy
Mindfulness
Art Therapy
Substance Abuse Treatment
Dialectical Behavioral Therapy
Dialectical Behavioral Therapy for Adolescents
Solution-Focused Treatment
PAIGE BUTKEY, MA, LMFTA
Paige is passionate about working with adults, couples, children, and teenagers. Everyone is unique, so Paige tailors her approach to who they are and what they need. Her therapeutic style is person-centered with an emphasis on the therapeutic relationship.
Are you looking for support for an adolescent? Is your kid feeling overwhelmed or acting out? Are you a college student having difficulty managing on your own? Or a young adult dealing with life transitions? A couple having relationship issues? An adult struggling with parenting? Paige provides a safe space to reflect, explore, and process in a judgment-free zone.
Paige's practice is informed by an integration of theories of human development, play therapy, attachment theory, and cognitive behavioral theory.
Clinical Specialties
Anxiety
Self-esteem
Depression
Attachment and abandonment

Education and Affiliations
Association for Play Therapy (APT) - professional member
Association for Training on Trauma and Attachment in Children (ATTACh) - professional member
Master of Arts in Counseling, Saint Martin's University, Lacey, WA

LGBTQ and racial justice allied
Zachary provides individual, adolescent (12 and up), adult, parenting, and gender counseling. Zachary has a unique role at CrossPath. In 2021, because of the unprecedented stress and upheaval for many youth and families who live in Sammamish, Washington, the City of Sammamish voted to provide special funding to CrossPath Counseling to support a full-time, masters-level counselor at our office. Zachary is that counselor. He conducts free 30-minute assessments with Sammamish residents and refers them for ongoing counseling services as needed.
Learn about the program and read Zachary's bio.

JACQUELYN OWENS, MA, NCC, CCTS, LMHC
Jacquelyn provides individual, adolescent (16 and up), adult and gender counseling.
Education: Jacquelyn holds a Master of Arts degree in Counseling Psychology from Argosy University. She is a Washington State Licensed Mental Health Counselor (LMHC) and a certified clinical trauma specialist (CCTS).
Jacquelyn's therapeutic style is relational, person centered and trauma informed. She strives to create a supportive space for clients to find healing. She has extensive experience with helping clients navigate trauma. Jacquelyn is passionate about supporting diverse clients, including the LGBTQIA+ community.
Clinical Specialties:
Trauma and Post Traumatic Stress
EMDR
Dialectical Behavioral Therapy (DBT)
Cognitive Behavioral Therapy (CBT)
Grief and loss
Gender-affirming care
Life transitions
Adolescents transitioning to college
Mindfulness

Contact us today for more information and to schedule an appointment.